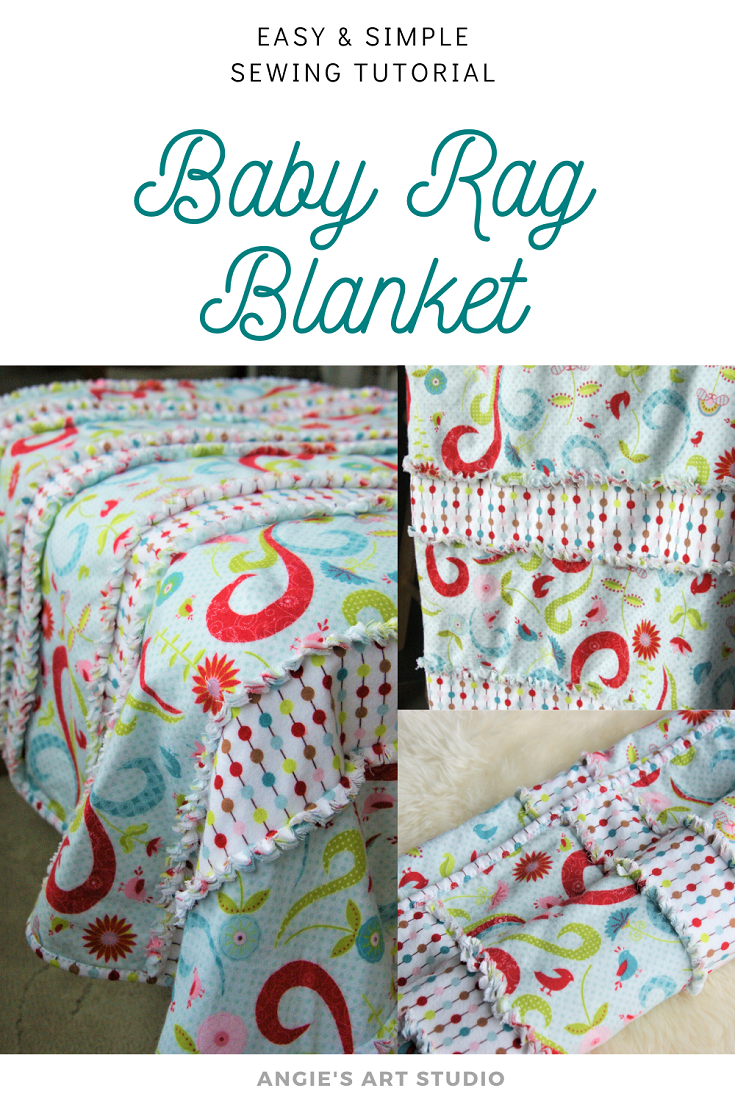 For a while now I have been admiring the raggy and fluffy edges of rag quilts, but most rag quilts I have seen on the internet are made with squares and the bulky, chunky look of them put a damper on my admiration.
And then I stumbled on a rag quilt that was made with strips which fired me up again. I really liked the clean and modern look of it with the right amount of  fluffiness and raggedness. I also really liked that the outer edges had binding, framing the strips of raggy edges. The balance was just right for me so I had to try it out.
I call my version a blanket because there's actually no quilting involved and I have modified the way most rag quilts are made so that it's a super easy sewing project for a beginner.  I think if you have a bit of sewing experience under your belt, like you already know how to make and attach binding, you could probably whip this up in a few hours.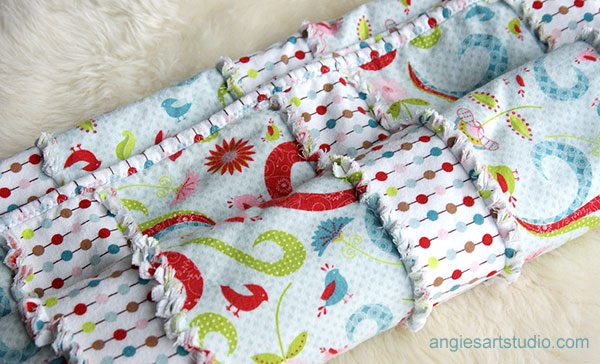 Finished size is about 42″W x 48″H
It involves only 2 layers of flannel, no batting in between. You can certainly add more layers of flannel or fleece to make it thicker if you wish, but here in southern California, winters are mild so I like to make my blankets lighter in weight.
Materials List:
2 yards of good quality flannel fabric that doesn't easily pill
1.75 yards of good quality flannel fabric in a different pattern
scissors
if you have it, spring-action handled scissors make it easier when it comes to clipping the edges (Fiskars Titanium Micro Tip Easy Action Scissors)
quilting ruler
rotary cutter (optional)
chalk / fabric marker
thread
sewing machine
walking foot (I actually didn't use a walking foot when I made this blanket, but if you have one I highly recommend you use it when sewing on the binding, otherwise the binding will bunch up a bit.)
pins
Baby Rag Blanket Tutorial:
1. To cut your strips fold your fabric so that the selvages meet and are even.
2. You will be using the entire width of the fabric (44″) and doing some trimming later, there is no need to trim the selvages.
3. This is where a rotary cutter is handy but if you don't have one, just measure and mark out the width of your strips with chalk or a fabric marker and cut with a pair of scissors.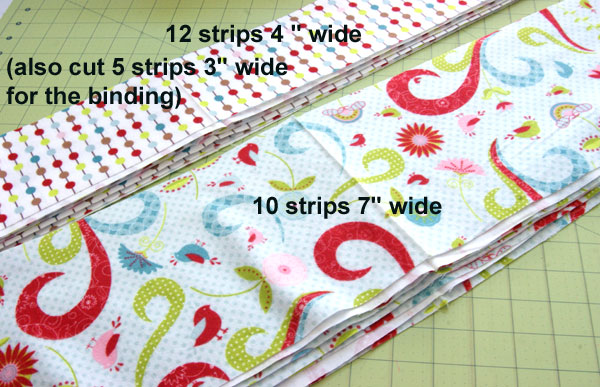 12 strips 4″ wide
10 strips 7″ wide
For the binding: 5 strips 3″ wide
4. You will be sewing with wrong sides facing together.
5. After you have finished cutting, stack the strips in pairs with wrong sides facing in and right sides facing out (pictured above).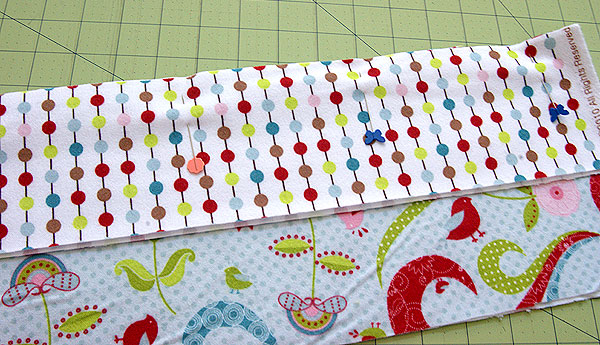 6. Place a pair of 4″ wide strips on top of the a pair of 7″ wide strips and pin together making sure the raw edges of the 4 layers are even.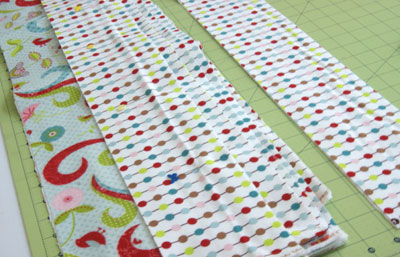 7. To save time, I don't bother to pin, but if you are not yet confident, keep pinning until you have 5 sets of strips pinned together. There will be one pair of 4″ strips leftover, which you will pin later.

I also try to position the pins away from the fabric edge leaving enough space so that when I sew, the needle doesn't hit the pins.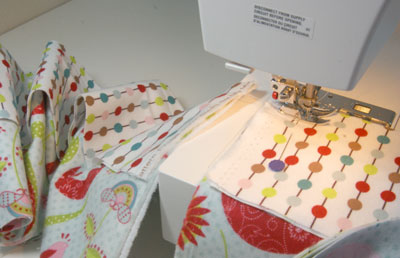 8. Sew 1/2 inch seam along the edge of all the fabric you have just pinned. You can do one continuous chain stitch without the need to backstitch at the beginning and end. This makes the sewing go really fast, especially if you have positioned your pins so that you don't have to stop and start to take them out!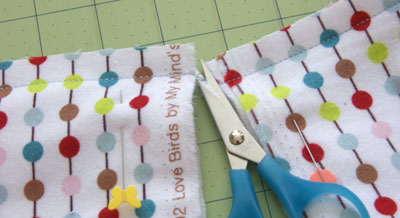 9. Snip the thread between each section.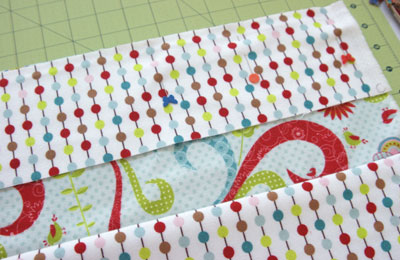 10. Pin the remaining 4″ strip to a section that you have just sewed, making sure you are pinning it to the back (which is the side that is flat). Sew 1/2 inch seam.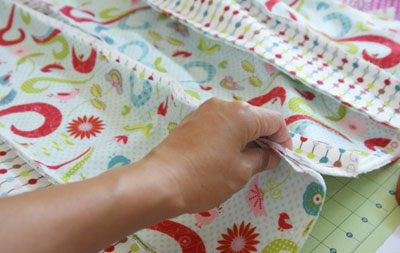 11. Lay out all your sections in the correct order so that you can pick up the fabric and then pin the sections together and sew again.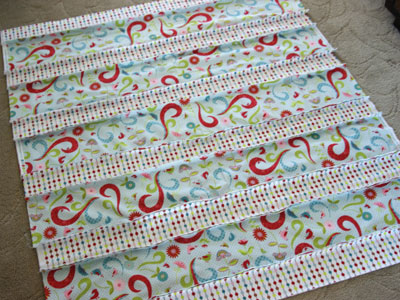 12. This is what it looks like after you have sewed all the strips together.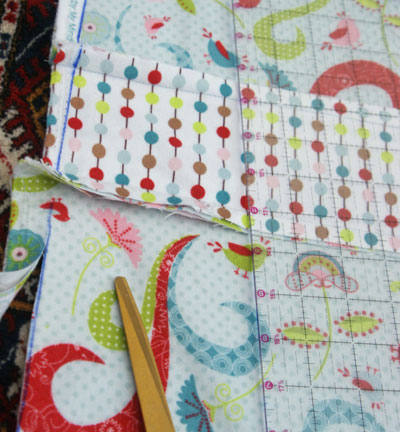 13. Square off the sides that are uneven.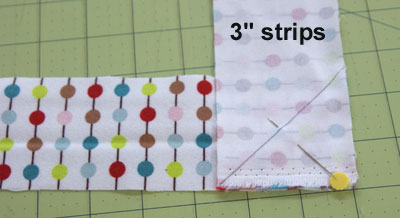 14. Grab your 3″ wide strips to make the binding. This is the tutorial I followed for the binding, it's very good and easy to follow, just make sure your strips are 3″ and not 2.5″. It's also where I got the idea to use a zig-zag stitch for attaching the binding – very cool because there's no need to hand stitch AND it looks pretty decent!
I'm sorry if this is confusing and that you have to go back and forth from here to there. I suppose I should have included my own tutorial on the binding, but alas, I didn't take enough pictures of the whole process.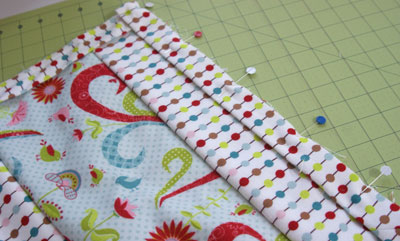 15. When pinning the binding to the blanket, pin it to the BACK side  (the tutorial I linked to says pin it to the front side) of the blanket.  I found it easier to pin the fabric with the pins pointing in.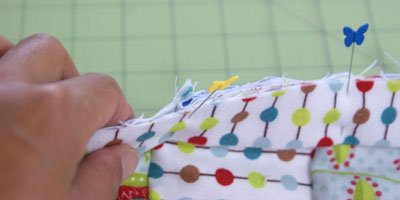 16. When pinning the seams, just push them to one side.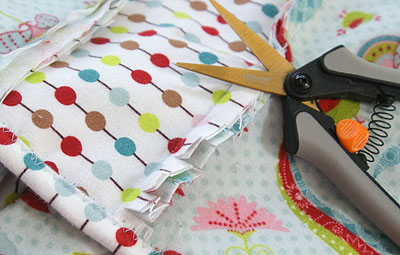 17. After the binding is on, you can snip away. I space the snips about 1/2 inch apart and did it while watching some TV, and yes, I was being careful not to cut into where I had sewn!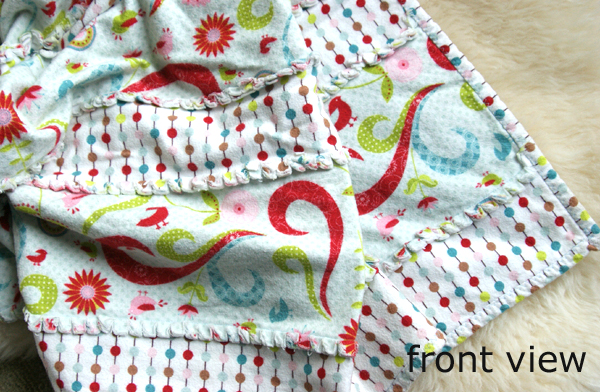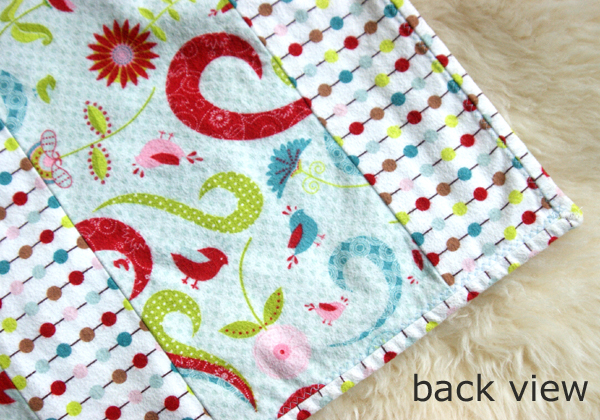 18. Before washing my blanket I took it outside to give it a good shake. Be warned, there will be lots of short bits of thread from all the snipping and clipping and there will also be lots that come loose in your washing machine and dryer. Wash the blanket – I washed mine on the cold cycle.
19. After washing I took it outside again to give it another good shake and made quite a pile of short threads! It's been so hot here lately that I avoided using the dryer for too long, I think I put the blanket in for about 10 minutes and even in that short time there was a large amount of lint and thread that collected in the filter.
That is the part I like the least about the rag blanket, but oh well it's the nature of the beast, so to speak. I suppose the loveliness of how this blanket turns out far outweighs the annoyance of some loose threads.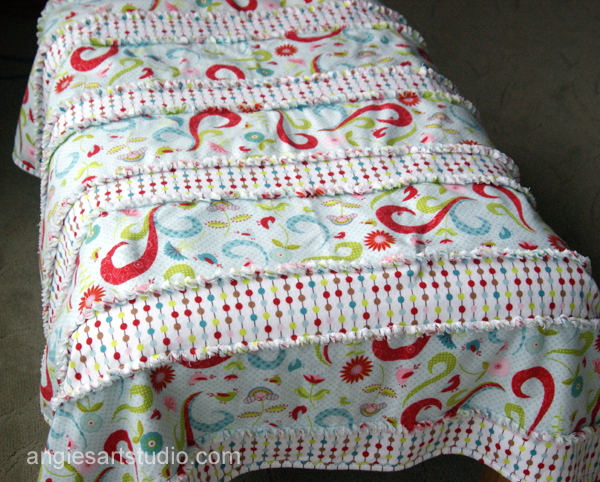 (Note: in the above picture the blanket is covering a coffee table, not a bed. The finished size is about 42″ x 48″)

I would love to hear from you if you have any questions, comments or suggestions – or if you make a rag blanket I would love to see your version of it! You can leave a comment below or you can contact me here.
Happy sewing ^-^